2017 Oregon Trail Herbicide and Seeding
Oregon Trail Reserve was treated with Plateau herbicide in fall 2015 to control exotics annual grasses including cheatgrass and medusahead rye posing a significant fire risk to the surrounding residential community. Herbicide application was the first phase of a restoration project aimed at shifting cheatgrass infested shrublands to more fire resistant and resilient native species. Due to limitations with funding, the area was not reseeded in 2016 as originally proposed and has since reverted to an annual-grass dominated landscape.
Contractors selectively treated broadleaf weeds with herbicide in spring 2017 at Oregon Trail, and returned in the fall to seed small pockets of land throughout the reserve were herbicide control of cheatgrass was sustained.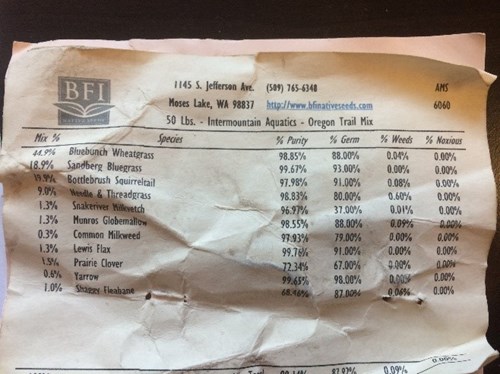 Seed tag listing species seeded at Oregon Trail.