Change After Tragedy: The Making of a Fire Adapted Community
The creation of the Ada Fire Adapted Community took place after significant wildfires impacted communities within Ada County in 2008 and 2009. These large wildfires opened the eyes of community members and community leaders to the real threat of wildfire.
On August 25, 2008, a grass fire ignited near the Oregon Trail area in southeast Boise. Fueled by invasive cheatgrass, dense sagebrush and 50 mph winds, the fire quickly spread uphill and ignited homes on the ridgeline.  The house fires sparked an urban conflagration. Dense, flammable landscaping, roofing and household materials increased the vulnerability of homes to ember showers, spreading the fire to homes across the street and beyond. Ultimately, the Oregon Trail Fire destroyed 10 homes and damaged 11. Tragically, this fire also claimed the life of one resident that was trapped inside her home and could not escape. 
The following summer, on July 28, 2009, lightning sparked a significant wildfire off of Highway 16 in the dry Ada County foothills. The fire burned 4,700 acres, damaged over 60 structures, completely destroyed four, and killed livestock.
These wildfires were a wake up call and sparked the creation of the Ada Fire Adapted Communities (ADAFAC) concept.
Community leaders, representing government agencies, civic organizations, and homeowners' associations have taken action to prevent future wildfire disasters within their communities, and to become more resilient to the threat of wildfire by reducing future risk to residents, infrastructure and our natural ecosystem by forming the ADAFAC Working Group.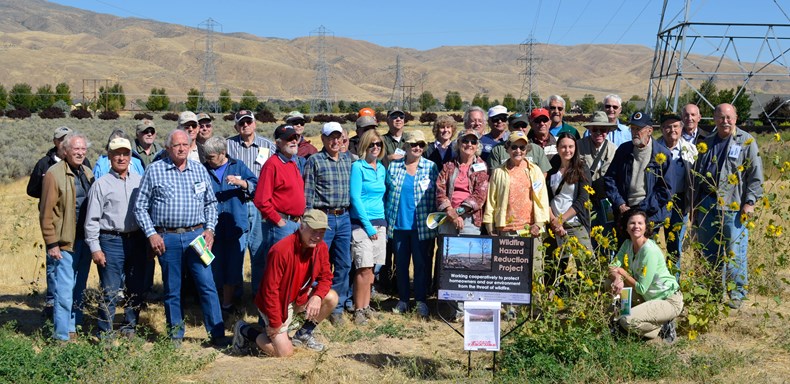 As a result of collaboration between many different stakeholders, several ideas turned into action, including:
Adopting building and fire prevention codes specific to the Wildland Urban Interface (WUI)

Creating a multi-agency wildfire mitigation Memorandum of Understanding (MOU)

Doubling the number of Firewise Communities in Ada County

Providing wildfire home safety evaluation training to residents and neighborhood watch leader

Creating the Ada Situational Awareness Tool (ASAT), a geospatial tool for situational awareness on all levels

Becoming part of the nationwide Fire Adapted Communities Learning Network FAC Net
Most profoundly, Columbia Village, the neighborhood that was devastated by the Oregon Trail Fire, benefited from the efforts and collaboration of their community. In 2013, the Columbia Village Homeowners Association earned national recognition as a Firewise Community. The neighborhood represents an excellent example of a community taking a proactive approach to mitigate wildfire risk.
The Ada Fire Adapted Community continues to grow and develop. Our community has been designated a hub organization for the Fire Adapted Community Learning Network. We have a growing number of education and learning events that have been supported by a diverse portfolio of grants.  We are proud to share what we have learned. Since initiating Ada Fire Adapted, we have:
Shared lessons learned, from the Oregon Trail Fire, as part of the 2015 IAWF International Wildland Fire Safety Summit and Human Dimensions of Wildland Fire Conference

Shared experiences at the Boise/Austin Fire Department Learning Exchange. Both communities work hard to improve their ability to live in areas prone to wildfire.

Planted Firewise Gardens at the Eagle Sports Complex and Boise Fire Station #1, so that community members can gather ideas of what to plant to make their homes more resilient to wildfire.
Fire struck close to home yet again in 2016, The Table Rock Fire burned over 2,500 acres of iconic and critical habitat landscapes in the last days of June. Like much of the foothills, the burned landscape included a number of property owners. Over 1,000 acres of Idaho Fish and Game Boise River Wildlife Management Area property was burned. Approximately 164 acres of Boise City open space reserve property was burned over. Approximately 300 acres of Idaho State Department of Lands (administrator by the Idaho State Historical Society) were impacted. The remaining acreage burned is owned privately by the Harris Ranch Wildlife Mitigation Association, the Satz Family Trust, and Sun Mountain LTD Partnership.
The City of Boise worked with the majority landowners (Idaho Fish and Game, Harris Ranch Wildlife Mitigation Association, and Idaho Department of Lands) to align rehabilitation efforts and share resources. The following goals were used to frame and guide discussions around rehabilitation efforts:
Restore native wildlife habitat.
Engage all age-groups in post-fire rehabilitation through volunteerism, service-learning, and educational programming.
Reduce erosion potential in the Warm Springs basin.
Rehabilitation efforts begin in the fall of 2016, and continue today. Check out the story of Table Rock Restoration.
With your help and support, we can continue to mitigate wildfire risk within the areas in which we live, work, and play.