The Ada Fire Adapted Community is fueled by effective and lasting collaborative partnerships. These connections help us solve problems, spread knowledge, share resources, and take necessary actions. From local fire departments and homeowners' associations to area businesses and residents, everyone has a role engaging in sustainable mitigation projects. Together, we coordinate several effective wildfire mitigation services, including: 
Fuel reduction 
Targeted thinning
Neighborhood chipping
Education and Outreach
To learn more about what we do, click here.
Learn more about some of our Current Projects.
Fuel Reduction
Fuel management focused on reducing dead fuel, removing ladder fuels, and minimizing non-native and invasive species reduces the risk for catastrophic wildfires and benefits ecosystem health. While focused on decreasing wildfire intensity, when performed under certain conditions, fuel management like mowing effectively decreases competition between native vegetation and undesirable, non-native/invasive species.
Residents in the Wildland Urban Interface (WUI) benefit most when fuel mitigation and management reduce the intensity of wildfires. Low intensity, smaller wildfires are less costly to suppress and can be more effectively controlled. The City of Boise has developed a mowing program on Open Space Reserves to reduce tall invasive grasses, like Cereal Rye (Secale cereale) in targeted locations near roads and highly trafficked trails where the threat of ignition is high. Mowed locations are also seeded annually with native bunchgrasses which are more resistant and resilient to wildfire and can compete with invasive, highly flammable grass species.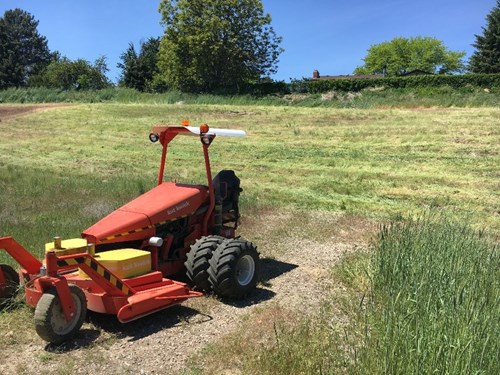 Chipper Projects
The City of Boise began wildfire mitigation chipping programming for communities in 2012, thanks to a funding partnership with the Southwest Idaho Resource Conservation & Development Council. Neighbors worked together to clear out dead or overgrown trees and shrubs that could become wildfire fuel in common areas and on individual residential parcels. The roaming chipper truck then picked up and disposed of the material at no cost to homeowners. The Warm Springs Mesa, Columbia Village, Oregon Trail Heights, Homestead Rim, Surprise Valley, Boise Heights, Central Foothills, East Foothills, Briarhill and Quail Ridge communities all utilized this program to reduce hazardous flammable fuels. Between 2012 and 2015 750 yards of materials, comprising approximately 185 tons, were chipped and removed.
In 2020, the City developed a new chipping program which is focuses on stewardship with homeowners to reduce wildfire risk and increase the standalone survivability of structures. Homeowners receive free chipping services pending their participation in our Wildfire Home Safety Evaluation program. The home safety evaluation comes at no costs and helps homeowners identify potential fire hazards around the exterior of their home. Hazardous woody debris identified during the evaluation can be picked up at no charge by the City via our Neighborhood Chipping Program.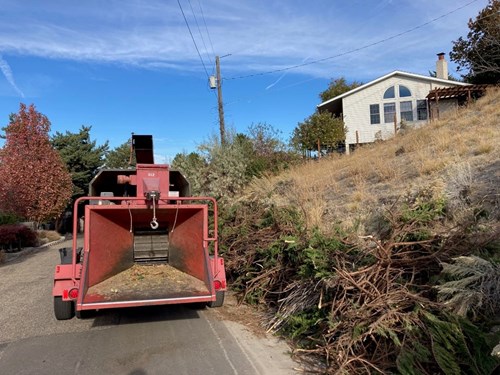 Education
Education efforts can be as large or small, and as formal or informal, as the project needs. Together, we've built interpretive signs at foothills trailheads, organized community-based training on wildfire hazards, and established the Southwest Idaho Wildfire Mitigation forum.