The Ada Fire Adapted Community is fueled by effective and lasting collaborative partnerships. These connections help us solve problems, spread knowledge, share resources, and take necessary actions. From local fire departments and homeowners' associations to area businesses and residents, everyone has a role engaging in sustainable mitigation projects. Together, we coordinate several effective wildfire mitigation services, including: 
Fuel reduction 
Targeted thinning
Neighborhood chipping
Education and Outreach
To learn more about what we do, click here.
Learn more about some of our Current Projects.
Fuel Reduction and Targeted Thinning
Reducing or restricting the growth of existing vegetation is one way to mitigate the threat of wildfire. Locally, examples include weed-whacking and thinning sagebrush in the Oregon Trail and East Highway 21 areas, as well as follow-up herbicide applications and reseeding of the Oregon Trail Reserve and surrounding open space. 
Chipper Projects
Since 2012, the City of Boise, in cooperation with the Southwest Idaho Resource Conservation & Development Council, has organized spring and fall chipper projects for several communities. Neighbors work together to clear out dead or overgrown trees and shrubs that could become wildfire fuel in common areas and on individual residential parcels. A roaming chipper truck picks up and disposes of the material at a local recycling company at no cost to homeowners. Participating communities of Warm Springs Mesa, Columbia Village, Oregon Trail Heights, Homestead Rim, Surprise Valley, Boise Heights, Central Foothills, East Foothills, Briarhill and Quail Ridge have engaged in this effort to reduce hazardous flammable fuels.  Between 2012 and 2015 we have helped chip and remove approximately 750 yards of materials, comprising approximately 185 tons. This material is taken to a recycling company for use as bio-waste material.
Goat Grazing
Targeted grazing is a natural, effective and environmentally friendly means for hazardous fuel reduction.  Goat grazing has been a benefit to the Oregon Trail Reserve, Castle Rock Reserve, Military Reserve, and Quail Ridge areas in Boise.
Other means of biological control of invasive annuals, such as Cheatgrass and Medusahead rye, include bacterial research being conducted by Dr. Ann Kennedy.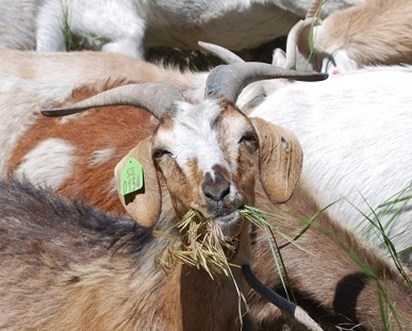 Education
Education efforts can be as large or small, and as formal or informal, as the project needs. Together, we've built interpretive signs at foothills trailheads, organized community-based training on wildfire hazards, and established the Southwest Idaho Wildfire Mitigation forum.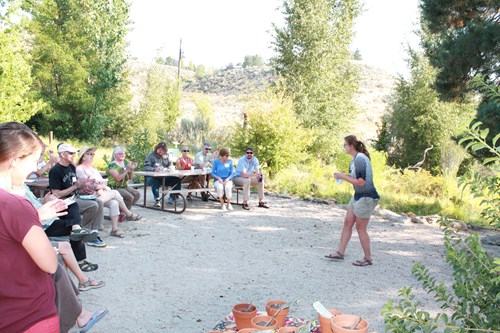 Learn more about What We Do