Every year, the partners of Ada Fire Adapted complete wildfire mitigation projects that reduce wildfire hazards that threaten citizens and their homes. Take a look at our highlighted projects for this past wildfire season! 
2018 Fuel Reduction Projects on Open Space Reserves
2018 fuel reduction projects funded by the BLM Community Wildfire Assistance Grant were conducted on multiple City of Boise open space reserves to include Hulls Gulch, Military, Hyatt Hidden Lakes, Hillside to Hollow, and Castle Rock reserves. Projects consisted of mowing invasive grasses like Cereal rye and Cheatgrass to reduce built-up hazardous fuels adjacent to neighborhoods. By completing fuels reduction and fuels management projects within City of Boise open space reserves directly adjacent to homes, the City helped reduce wildfire risk in the Boise Front. 
Castle Rock reserve before (left) and after (right) mowing to reduce hazardous invasive grasses in June 2018.
Wildfire Awareness Challenge!
In June 2018, Ada Fire Adapted supported efforts for wildfire awareness and safety by conducting the Wildfire Awareness Challenge. Participates were tasked to complete challenges that were posted randomly throughout the month. If they completed all of the challenges, their name was placed in a drawing to win a $3,400 Firewise Landscaping makeover to make the landscaping on their property more fire-resistant, which ultimately makes the home safer from the threat of wildfire.  Our participants have completed projects around their homes to be better prepared for wildfire, and gave us some great feedback about the challenge: 
"I have learned so much in this challenge! I am new to Boise and from an area that is known for summer wildfires (Southern Oregon) but I have never seen obvious signs of wildfires here like I saw in Oregon so I assumed it wasn't a problem….Not only am I looking at my own house and seeing the many things I need to change to make it more adaptable to living in an area prone to wildfires, but I am also looking around the neighborhood and seeing the things my neighbors should fix as well."
"I discovered that not only is my household ill-prepared for a wildfire, but that our property is actually unintentionally encouraging one. Although I was previously ignorant of the many positive things happening in Boise regarding fire adaptation, I now know that many people are making a difference in our community."
"I have learned what a Fire Adaptive community is and that I actually live in a Fire Adaptive Community. I've learned there are a multitude of resources available to me and that I live in a city that is committed to helping its citizens to be educated in all aspects of being fire-wise."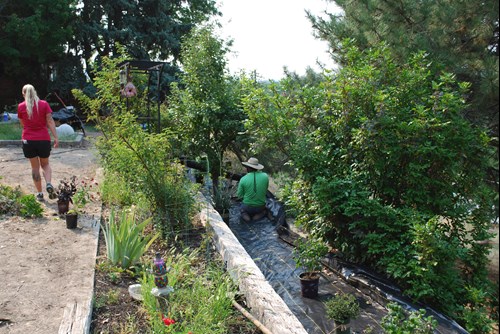 One of the projects that came out of the 2017 Challenge.
Boise Heights Firewise Community
Protecting your home from wildfire takes more than just reducing wildfire hazards on your property. You must cross individual property boundaries and extend wildfire mitigation efforts throughout entire communities. Firewise USA has a network of over 1,400 Firewise sites throughout the nation that take responsibility for their wildfire hazards by preparing and protecting their homes using Firewise practices. 
Ada County is currently home to seven nationally-recognized Firewise USA sites.
Congratulations to Boise Heights for becoming our most recent Firewise USA community! Boise Heights has witnessed many wildfires over the years, including the 1996 8th Street Fire, which burned over 16,000 acres and threatened hundreds of homes. Like many foothills neighborhoods, Boise Heights contains an abundance of flammable fuels. Decorative trees and shrubs including notoriously flammable Juniper and Arborvitae are dense within the neighborhood, and are capable of carrying wildfire from home to home. As Boise Heights gains and maintains Firewise status, it will work to reduce and replace these dangerous fuels by utilizing a roaming chipper to remove fuels, and through education regarding more fire-resistant, drought tolerant plants. These efforts will increase Boise Height's ability to withstand wildfire when it strikes.
Check out Firewise USA to learn how your neighborhood could benefit from this site recognition program.
The steps are easy to take. Ada Fire Adapted seeks to encourage communities to become Firewise USA sites, and will support your application process every step of the way. Contact us at adafac@cityofboise.org if you would like to begin the process of making your community a Firewise USA site.