Every year, the partners of Ada Fire Adapted complete wildfire mitigation projects that reduce wildfire hazards that threaten citizens and their homes. 2017 has been a busy year. Take a look at our highlighted projects for this wildfire season! 
2017 Fuel Reduction Projects on Open Space Reserves
2017 fuel reduction projects funded by the BLM Community Wildfire Assistance Grant were conducted on multiple City of Boise open space reserves adjacent to neighborhoods in the WUI; to include Hulls Gulch, Military, Hyatt Hidden Lakes, Oregon Trail, Hillside to Hollow, and Mesa reserve (see map below). Projects were categorized and budgeted into four fuel reduction types; fuel thinning, herbicide, mowing, and seeding. By completing fuels reduction and fuels management projects within City of Boise open space reserves directly adjacent to homes, the City helped reduce wildfire risk in the Boise Front. Click on individual projects under "2017 Projects" on side bar for additional details and photos.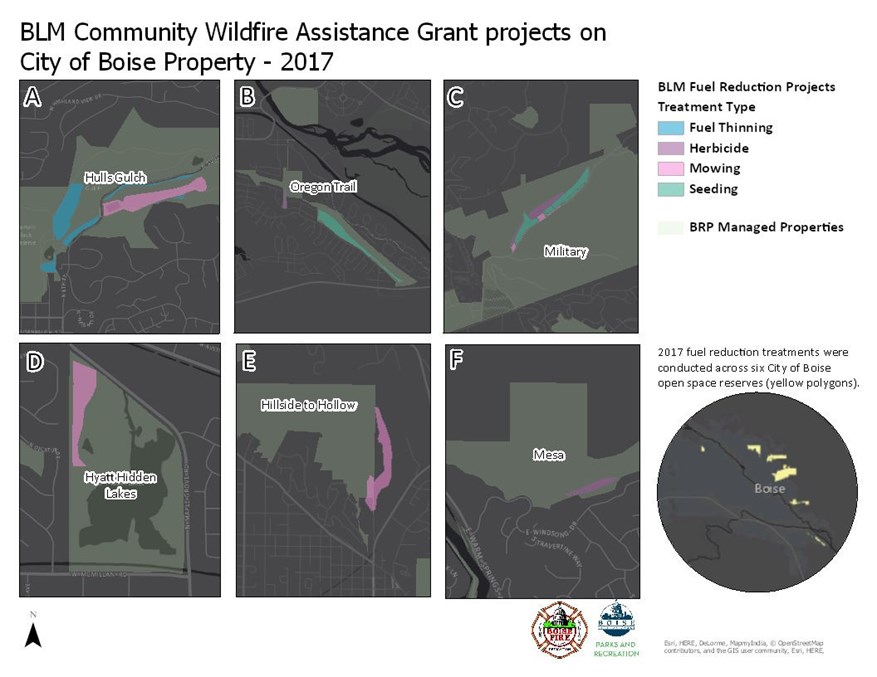 Wildfire Awareness Challenge!
May is Wildfire Awareness Month. Before wildfire season began, Ada Fire Adapted supported efforts for wildfire awareness and safety by conducting the Wildfire Awareness Challenge. Participates were tasked to complete challenges that were posted randomly throughout the month. If they completed all of the challenges, their name was placed in a drawing to win a $1000 Firewise Landscaping package to complete a wildfire mitigation landscaping project around their home! Our three winners have completed projects around their home to be better prepared for wildfire, and gave us some great feedback about the challenge: 
"...the most important part of this challenge is preparing communities for fire. I feel much more prepared to help myself and my neighbors in the event of a fire. I have bookmarked many of the great resources to which this challenge led me and I have already to spoken to some of my neighbors..."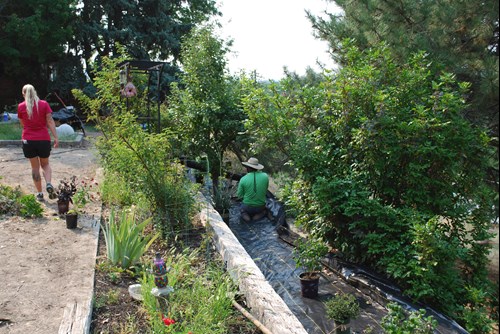 Boise Heights Firewise Community
Protecting your home from wildfire takes more than just reducing wildfire hazards on your property. You must cross individual property boundaries and extend wildfire mitigation efforts throughout entire communities. Firewise USA has a network of over 1,400 Firewise sites throughout the nation that take responsibility for their wildfire hazards by preparing and protecting their homes using Firewise practices. 
Boise is currently home to six nationally-recognized Firewise Communities.
Boise Heights is currently in the process of becoming a Firewise Community! Boise Heights has witnessed many wildfires over the years, including the 1996 8th Street Fire, which burned over 16,000 acres and threatened hundreds of homes. Like many foothills neighborhoods, Boise Heights contains an abundance of flammable fuels. Decorative trees and shrubs including notoriously flammable Juniper and Arborvitae are dense within the neighborhood, and are capable of carrying wildfire from home to home. As Boise Heights gains and maintains Firewise status, it will work to reduce and replace these dangerous fuels by utilizing a roaming chipper to remove fuels and though education regarding more fire-resistant, drought tolerant plants. These efforts will increase Boise Height's ability to withstand wildfire when it strikes.
To become a Firewise Community and maintain annual Firewise status, a neighborhood must complete the following steps:
Obtain a wildfire risk assessment as a written document from your state forestry agency or fire department.
Form a board or committee, and create an action plan based on the assessment.
Conduct a "Firewise Day" event.
Invest a minimum of $2 per capita in local Firewise actions for the year.
Create a Firewise Portal account and submit an application to your state Firewise liaison.
These steps are easy to take. Ada Fire Adapted seeks to encourage communities to become Firewise, and will support your application process every step of the way. Learn more about Firewise by visiting their website, firewise.org. Contact us at adafac@cityofboise.org if you would like to begin the process of becoming a Firewise Community.