We live in a fire-prone ecosystem. In fact, southwest Idaho is one of the most fire-prone areas in the western United States. Despite being prone to fire, more and more homes are being built at the wildland-urban interface (WUI), where undeveloped wildlands meet the built environment. Climate change plays a part in the equation; drought and warming temperatures equate to longer fire seasons and a greater threat of wildfire. As a result, it is essential that our community adapt to the rising threat of wildfire by creating plans to mitigate wildfire risks. It is also important to emphasize that fire plays a necessary role in our ecosystem. As such, we must learn to live with wildfire.
The primary goal of Ada Fire Adapted Communities (ADAFAC) is to educate and prepare our community to live with wildfire. Ada Fire Adapted Communities includes residents, business owners, community leaders and federal and state agencies. Working together, we create a dialogue that allows us to learn from one another, plan and take action as a community adapted to the natural threat of wildfire.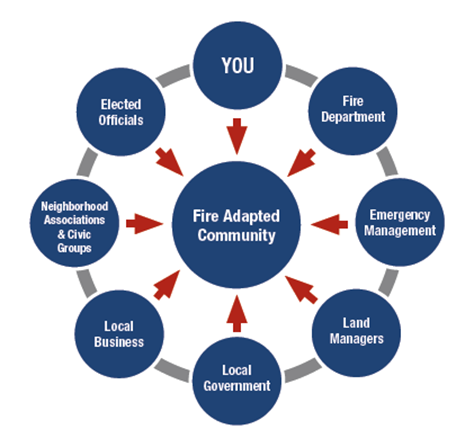 (Image courtesy

iafc.org

)
With wildfire it's not a matter of if, but when?
Being a Fire Adapted Community (FAC) means that the people, structures and landscapes are prepared to endure the effects of an inevitable wildfire. FAC builds its knowledge from the nations' leaders in wildfire preparedness, including the National Fire Protection Association (NFPA) Firewise USA program, and the International Association of Fire Chiefs (IAFC) Ready, Set, Go! program.
A Fire Adapted Community accepts the reality of their risk and takes responsibility for those risks by taking appropriate actions to adapt to fire. Common qualities of these communities include their ability to make and maintain collaborative partnerships, increase the knowledge of community members through information sharing, and instilling an understanding at the individual level that wildfire is everyone's fight!
The success of Ada FAC depends on the collaborative partnerships we build together. From working with homeowners on a local scale, to adhering to FAC principles by building larger community partnerships, we are committed to keeping communities within Ada County's WUI a safe place to live.
What can I do?
The first step toward building a Fire Adapted Community is education. Read more about ADAFAC in the homeowner, business and government sections to see which specific actions you can take that will help prepare you for a wildfire. Then take action to make you, your family and your community safer from the real threat of wildfire.